Fr 20.05.2016
Jane Goodall - Nussyy Spar PK
Q19
104 Fotos
Im Q19 präsentierte Ali Rahimis Freundin Carina Pirngruber ihre neue Nahrungsmittelmarke Nussyy, die aber Herbst exklusiv bei Spar und Interspar vertrieben wird und von deren Erlös ein Großteil den Jane Goodall Projekten zugute kommt.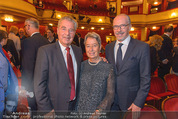 Fr 20.05.2016
Nein zu krank und arm
Burgtheater
48 Fotos
Vorpremiere von ´Die Diener zweier Herren´ zugunsten Siegfried Meryns ´Nein zu krank und arm´. Mit dabei u.a. Noch-Bundespräsident Heinz Fischer mit Gattin Margit, Marika Lichter, Thomas Drozda, Doris Bures, Sabine Oberhauser, Peter Hochegger, Karl Stoss, Thomas Prantner und natürlich Hausherrin Karin Bergmann.
Do 19.05.2016
emba - Events Hall of Fame
Casino Baden
205 Fotos
Im Casino Baden wurden zum zweiten Mal die emba - Austrian Event Hall of Fame - Awards vergeben. Dieses Jahr wurden u.a. Harry Kopietz, Harald Serafin und Hannes Jagerhofer geehrt.
Komplett&uumlbersicht Societyfotos
---